Food for thought: from my past 10 years of experience working in the language education industry, I have found that one thing clearly sticks out, the clear demand for 'Native Speakers'. But why? How has this suddenly become a qualification of someone's ability to teach a language? If you have no experience in teaching, ask yourself if you could sincerely teach your own native language to others. This article looks to discuss the key areas of controversy and hopefully dispel the myth that 'Natives are always better.'
       By definition, a 'Native Speaker' is someone who has communicated with a specific language from birth. This is not a person who can automatically prepare students for exams, explain intricate grammar rules or truly develop you to communicate with the same nuances that they have acquired over the years. If you are looking for someone who can explain grammar or prepare you for exams, you need a specialist in that field – whether the teacher is Native or not, is not only irrelevant but perhaps a hindrance. Think about it. Surely it's better to learn grammar in a foreign language from someone who has already had to learn it themselves, someone who can give you tips and find simpler ways to explain the language. If you are relying on an inexperienced 'Native Speaker', you'll find that their response to many of your questions may be 'just because'. Essentially, we have learnt the language from circumstance, not from a book as most language learners do nowadays.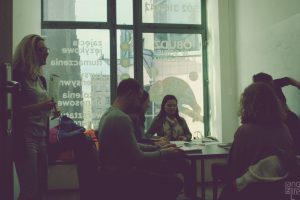 Instead of focusing on finding a Native teacher, we should instead be focusing on finding someone that is experienced, qualified, enthusiastic and most importantly, passionate about teaching. Whether someone is 'Native' or not, is simply an additional fact. My colleagues in the UK would not be able to explain the difference between the Present Perfect and the Past Simple, they would not be able to train you for IELTS, or explain the differences between Phrasal Verbs, or Preposition use. And why should they? If their jobs don't require this knowledge. Yet if one of them were to jump on a plane to Poland and advertise their teaching services, they would find themselves inundated with requests for lessons.
        Indeed, Native Speaker teachers are more often than not, the weaker source of language education. Whether through the complacency they have acquired from so many people telling them what a wonderful commodity they are, or simply their inexperience and a general attitude that teaching is a way to make a few extra quid. Why would you choose a Native over someone who has dedicated a large chunk of their time to language education, reading books, practicing lesson plans and finding the algorithms in grammar connections. These people will naturally be more dedicated to the language than someone who has relocated here because of their girlfriend and simply needs to make some money.
        Now, as a teacher originally from the UK, it may seem a little odd that I have chosen to launch a tirade of abuse at Native Speakers. Let me be clear, there are some truly fantastic 'Native Speakers' who have chosen this particular career path because it is something they are passionate about. They are skilled, qualified and charismatic – as most non-native teachers are. Simply, a good teacher is someone that fits your needs. It should be dictated by their ability to teach and inspire you with language learning, not by what country they were born in.
       Don't get me wrong, conversation classes with a Native tend to be much more relaxed and natural. There are of course benefits of talking to someone who can effortlessly educate you in how to speak naturally. If you're looking to relocate, or conduct business with people from that particular country, conversation/immersion classes are certainly a great way to prepare yourself. The classes will show you how to communicate naturally, and understand the culture of that country. This to me, is the greatest value of a 'Native Speaker' – someone that can demonstrate how to communicate naturally and avoid the faux pas connected to cultural indifferences. Other than this, there should be no need to specify.
        I hope after reading this, you will think twice about what you really need in a teacher. Regardless, you should not expect to pay a different rate for lessons due to the country they were born in. After-all, why would you discriminate between two nationalities provided that they are equally qualified and capable to teach.